An
empowered woman

is


powerful

beyond measure and


beautiful

beyond description.
"Life
isn't about
Finding Yourself
Life
is about
Creating Yourself"
George Bernard Shaw
"A
woman
is the full circle.
Within her is the power to
create, nurture & transform."
Diane Mariechild
"We all look up to
Strong, Independent Women.
But how do we become
one ourselves ?"
THE HAPPENINGS
Images speak louder than words.My journey in pictures. …
Woman & Leadership
"Truly remarkable leadership is not just about motivating others to follow,
it's about inspiring them to become leaders themselves and setting the stage for even greater opportunities for future generations."
- Condoleezza Rice -
Woman & change
"Incredible change happens in your life
when you decide to take control of what you do have power over instead of craving control over what you don't."
- Steve Maraboli -
Woman & Strength
"Feminism isn't about making women strong.
Women are already strong. It's about changing the way the world perceives that strength."
- G.D. Anderson -
I am
MAHALAKSHMI SARAVANAN
Driven by passion to create better work opportunities for women…
Mahalakshmi has a passion to create better opportunities for women and she has been encouraging budding entrepreneurs. With her indomitable optimism and can-do spirit, she has become a role model for thousands of aspiring women entrepreneurs today.
My Mission & Vision
The vision

is to create opportunities for the under-privileged in the field of education in particular, and in the overall society as well..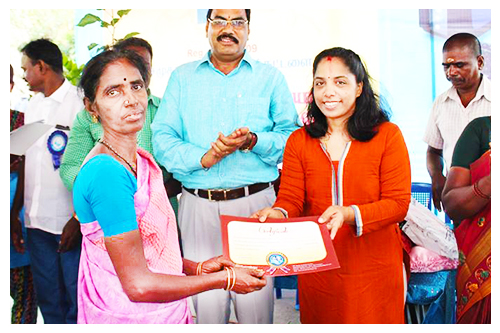 SERVICE
The purpose of life is not to be happy. It is to be Useful, Honorable,Compassionate & make some difference that you have lived & lived well
"Only a life lived for others is a life worthwhile." – Albert Einstein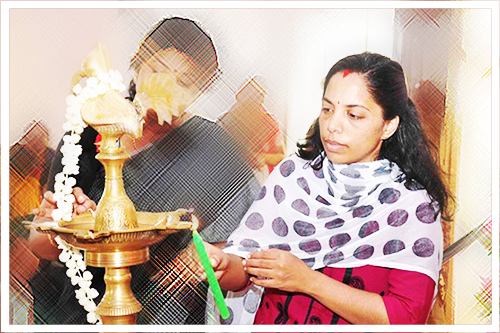 KNOWLEDGE & WISDOM
The pursuit of knowledge is ever ending, Knowledge liberates you from your own fear & your presence will y liberate others. The day you stop seeking knowledge is the day you stop growing.
"Knowledge helps in making a living but Wisdom helps you in making a life"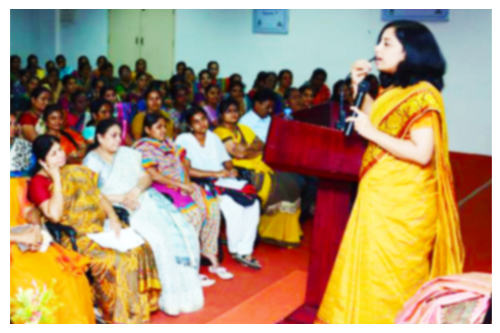 EMPOWERMENT
"The task of Empowerment is not to induce greatness into humanity, but to elicit it.Empowerment helps identifing yourself & your Destiny. "

1,00,000
Delivered talks to more than 1Lac through interactive sessions

15,000
She has huge network of women entrepreneurs

365
Offering 24/7 Support to women entrepreneurs in India all round the year

Media
Mahalakshmi Saravanan has been featured on "The Economic Times"(newspaper) on Women's Entrepreneurship Day,Nov,19th, 2016.

Global Fellowship
She has been conferred the Rex Karmaveer Global Fellowship. Fellowship will be awarded during November in New Delhi at the exclusive awards function which is a part of "iCONGO's REX Conclive, being organised on 25th , 26th and 27th of Nov 2016. .

Ambassador
She has recently been selected as the "India Turns Pink Ambassador" by India turns Pink, an initiative dedicated towards breast cancer awareness.

Panelist
She was a panelist at the International Women's Day Celebration(March,2015) at World Trade Centre,Mumbai

Award
Applauding her enterprising feat, Mahalakshmi Saravanan, has been conferred with the "BEST WOMAN ENTREPRENEUR AWARD' by SSM Educational Institutions, Komarapalayam. Tamil Cineworld stalwart 'Illaya Thilagam' Dr.G.Prabhu gave away the award crowning her on the eve of the International Conference on Women Entrepreneurship.

Chief Guest
She was the Chief guest at the women empowerment event organised by the Women Empowerment cell of Prathyusha Engineering College(PEC) on 6th January,2017. She addressed 800+ students on youth and women empowerment.

Speaker
She spoke at an experience sharing event for Women Entrepreneurs organised by Rajiv Gandhi National Institute of Youth Development on 28th Dec. She shared her knowledge on digital marketing and stressed the importance of learning how to use a smart phone for business.

Guest of Honour
She was a guest of honour at the Seminar on Entrepreneurship organized by University of Women's Association Madras at Dr. MGR Janaki College of Arts and Science for Women on 29th November, 2016
Shashikala
Stepstones Consulting
"I joined WEI a few months ago and since then I have been able to obtain greater visibility. Recently, through Women Entrepreneurs India, my profile was featured in the economic times, Bangalore edition. I have also been able to network with the right people for enhancing my business
Dr.R.Shanthi
Assistant Professor,Department of Commerce,University of Madras
Your oration and power point presentation engaged the participants and the delegates. You are a role model, especially for the budding entrepreneurs in India.-, Assistant Professor,Department of Commerce,University of Madras-24th March,2016
24th March,2016
Harini Ramarathinam
Founder Vibha Education corp.
Thank you so much for the wonderful website designed by Women Entrepreneurs India. From the day one the talk about designing of my website started, Mahalakshmi was very patient with me, answered all my queries & answered all my calls though she was in a busy schedule. Special thanks to Mahalakshmi & team WEI for making Vibha Education Services corp. Online.
contact
Have a project you're interested in discussing? Drop us a line below, we'd love to talk.
Successfully sent!!
Call Us:
 +91 9952013800
Address:
 Old No, 15/2,New No, 20 Selvarangaraja street, Little Mount, Saidapet,
Chennai-600 015, Tamil Nadu , India
Email:
 mahajoghee80@gmail.com
Old No, 15/2,New No, 20
Selvarangaraja street,
Little Mount, Saidapet,
Chennai-600 015,
Tamil Nadu , India